Jewelry Buying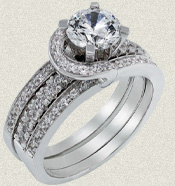 For our Jewelry Buying and our collateral Jewelry Loans, 5 Point Jewelry & Loan offers you the most money possible, as we are always looking to expand our inventory. Bring in your name brand jewelry, any type of gold or diamond jewelry, and 5 Point Jewelry & Loan will pay you top dollar. We will beat any legitimate offer for gold, white gold, diamonds, rings, necklaces, watches, chains, earrings, scrap gold, colored stones, gems, platinum, and silver.
Whether you are looking to sell your jewelry or just wanting to take out a collateral jewelry loan, 5 Point Jewelry & Loan is here to provide you with the best value for your precious jewelry. We are frequently rotating our gold and diamond jewelry inventory since we work with a variety of jewelry wholesalers and private dealers, so we are able to offer you the highest price for your jewelry.
Come in and receive a private and confidential jewelry appraisal free of cost. Appraisals are handled by our highly trained Jewelry Assessors, Diamond Graders (Gemologists), and Watch Authenticators. These experts are trained in pricing valuable EGL & GIA Certified Diamonds. An offer will be made within minutes and our Jewelry Loans are drawn up on the spot.
When it comes to Jewelry Buying and loans on jewelry We Pay More!